Advertising

Advertising home
Why advertise?
10 reasons to advertise
Advertising coverage
Media pack
Directory advertising
Business listing
Premium listing
Featured advert
UK wide featured advert
Web site advertising
What's available?
Showcase adverts
DHTML and Banners
Text links

UK WIDE FEATURED ADVERT

If you are a health club or personal training company with a chain of UK based locations then you'll require a UK wide featured advert. This works very much in the same way as a normal town specific featured advert, with one slight twist - your advert will appear above all other adverts in your sector across over 30,000 towns and cities!

A UK wide featured advert enables you to:
Guaranteed top spot in your chosen category in ALL UK place names and postcodes.
Be seen by ALL users searching for your business type.
Add your company message to our search results page.
Add your logo and brand to your business listing.
Link directly to your web site or business listing page.
Monitor your advertising stats - impressions, clicks and web clicks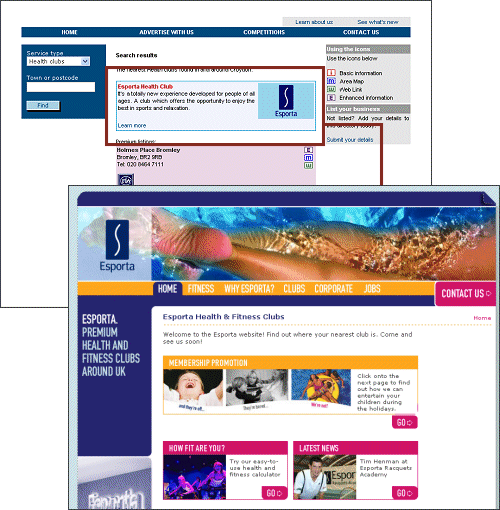 Find out more information

Complete the following form and one of our team will call you back within 24 hours.