Register of Exercise Professionals (REPs)

The Register of Exercise Professionals, aka the Exercise Register, is is a system of self-regulation for all fitness instructors, exercise coaches, personal trainers and fitness, yoga and pilates teachers involved in the exercise and fitness industry within the UK. The REPs creates a framework within which individual instructors can achieve the highest standards of professionalism, linked to best practice in the exercise and fitness industry. Registration is achieved and maintained through the gaining of qualifications and training which are nationally recognised and which are linked to the National Occupational Standards for exercise and fitness.
NOTE: FitnessVenues.com is the ONLY UK search directory where accredited exrcise professionals carry the REPs logo.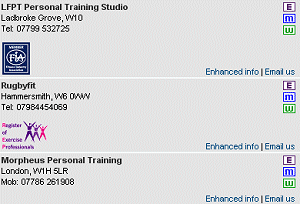 Why do we need the Register of Exercise Professionals?
REPs exists because it is the only way to independently demonstrate that fitness professionals are competent and qualified to do their job. The Register is a central feature of the professionalism of the industry that is essential to giving customers, users, the public and partners in the medical professions, the necessary level of confidence in the quality of services provided by fitness professionals.
REPs, the fitness professional and you
Registration signifies that an exercise and fitness professional has met certain standards of good practice. The REPs encourages a properly qualified base of exercise professionals who:
have gained recognised and approved qualifications.
can demonstrate competence in their working environment.
are committed to Continuing Professional Development (CPD).
have appropriate public liability insurance for the level at which they are working.
demonstrate commitment to the industry Code of Ethical Practice.
The REPs Mission Statement is:
"To ensure that all exercise professionals are suitably knowledgeable and qualified to help safeguard and to promote the health and interests of the people who use their services."
Latest health and fitness news


All news stories
Latest quizzes and tests


All quizzes & tests