French Salade Niçoise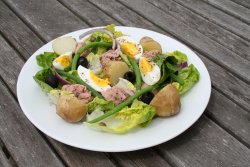 This classic French salad is quick and easy to prepare and is an ideal summer meal. It contains a wide variety of nutrient-rich plant foods and the tuna is a healthy source of protein. Olives are a good source of unsaturated fat and high in vitamin E.
Ingredients (serves 4)
16 Romaine lettuce leaves, torn into large pieces
2 tins tuna chunks in water, drained
600g/1 1/4lb new potatoes, cooked and halved
1lb cooked green beans
1 tablespoon capers, rinsed
2 hard boiled eggs, quartered
3 medium ripe tomatoes, cut into wedges
4 anchovy fillets, rinsed and dried
handful of Niçoise olives
1 small red onion, thinly sliced
2 tablespoons red wine vinegar
1 garlic glove, crushed
3 tablespoons olive oil
salt and freshly ground black pepper
Method
1) In a large salad bowl, place the lettuce leaves, tuna, anchovy fillets, green beans, capers, tomatoes, olives, onion, eggs and potatoes. Toss together gently.
2) In a small bowl, combine the vinegar and garlic. Whisk in the olive oil. Season to taste with salt and pepper. Pour over the salad and serve.
Calories per serving: 323
Fat per serving: 10g
Top Tips
Traditionally, Niçoise olives are used to make this dish and it is from them that the salad gets its name. You don't have to use Niçoise olives though, why not experiment with different types of olives.
Try serving with some wholemeal bread.
Courtesy of the World Cancer Research Fund
Latest health and fitness news


All news stories
Latest quizzes and tests


All quizzes & tests