Contours Express Ladies Gyms

Women will feel welcomed and love the wonderful world of Contours, a world of weight loss, achievement and most of all a world of fun, all in just a 29 minute workout.

Contours Express Ladies Gyms
Curves for Women

Curves allows you to get a complete aerobic and strength training workout in just 30 minutes. The system is built around easy-to-learn hydraulic resistance machines.

Curves for Women health clubs
Energie Fitness for Women

Energie Fitness for Women is a health, fitness and weight loss centre designed for the wellbeing of women and ideal for female fitness, weight loss and inch loss goals.

Energie Fitness for Women
Fitness First For Women

The female-only environment of Fitness First for Women means that you'll be totally comfortable working out with us, no matter what shape or size you are - or think you are!

Fitness First for Women health clubs
Gymophobics



Gymophobics is a unique ladies only facility. Whatever your age or level of fitness Gymophobics will help lose an ich, lose weight, firm up, tone up and feeling great.

Gymophobics ladies only gyms
Ladyzone

LadyZone "your 30 minute relaxed workout" is an exciting new, ladies-only circuit based workout, lasting only 30 minutes. This non-intimidating, cost effective workout could be what you have been looking for!

Ladyzone ladies only facilities
Ladies Workout Express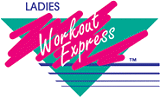 For over 20 years Lady of America Franchise Corporation has been known as an innovator in the constantly evolving business of women's fitness. With over 400 clubs worldwide, we are the second largest chain of women's fitness clubs.

Ladies Workour Express review