Ladies Workout Express gyms reviewed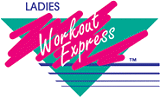 For over 20 years Lady of America Franchise Corporation has been known as an innovator in the constantly evolving business of women's fitness. With over 400 clubs worldwide, we are the second largest chain of women's fitness clubs.



Ladies Workout Express clubs
Our clubs provide a dynamic and supportive environment to thousands of women who want to work on their fitness and lifestyle goals. LOA Fitness for Women clubs and Ladies Workout Express clubs are different from other fitness franchises in that both clubs offer specialized circuit training equipment in addition to other standard club amenities. Our members have the opportunity to improve and maintain their fitness levels in a variety of ways while enjoying the company and support of other women.
Ladies Workout Express gym locations
Ladies Workout Express gyms are located throughout the the North West of England and Ireland, including:
Cheadle
Harrogate
Swinton
Morley
Walton
Belfast
Ballycare
Bangor
Lisburn
Newry
Ladies Workout Express: The workout
Ladies Workout Express is an interval circuit training programme that provides a total body workout in only 30 minutes. With our Dual Hyraulic Machines, you will get a cardiovasular & strength training combined workout.
Ladies Workout Express 30 minute programme
Ladies Workout Express offer this in a clean environment with no complicated machines. Our specialized 30-minute programme speeds up your metabolism, burns fat and aids in weight loss.
With personal attention and guidance, you can feel confidant that you are getting the most out of your exercise programme. Our clubs offer an environment for women that is non-intimidating and provides stimulating music to keep you motivated.
Latest health and fitness news


All news stories
Latest quizzes and tests


All quizzes & tests