Bubbling Blueberry Crumble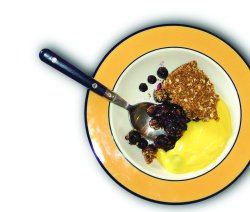 Ingredients(Serves 2 )
Filling:
400g/1lb fresh or frozen blueberries
1 tbsp dark brown sugar
1 tbsp plain flour
1 tsp lemon juice
Topping:
50g/2oz rolled oats
50g/2oz plain flour
25g/1oz wholemeal flour
50g/2oz dark brown sugar
1/4 tsp ground cinnamon
50g/2oz margarine
Preheat oven to 190ºC/375ºF/Gas Mark 5
Method
For the filling:
1) Place the blueberries in a large bowl.
2) Add the flour and sugar and stir to combine.
3) Place the mixture in 7" round baking dish and sprinkle with lemon juice.
For the topping:
1) In a large bowl, combine oats, plain and wholemeal flours, sugar and cinnamon, using your hands or a fork to blend them.
2) Work in the butter until it is evenly distributed in the topping.
3) Sprinkle the topping evenly over the filling.
4) Bake the crumble for thirty minutes, until the fruit is bubbling and the topping is lightly browned.
5) Let it sit for twenty minutes, then serve with some low fat custard.
Calories per serving: 324
Fat per serving: 11.8g
Courtesy of the World Cancer Research Fund
Latest health and fitness news


All news stories
Latest quizzes and tests


All quizzes & tests