Vale Hotel Spa reviewed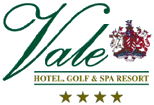 For the UK's ultimate spa break Wales' Vale Hotel, Golf and Spa Resort promises an exceptional spa holiday. Wales' largest spa, established five years ago under the expert guidance of industry consultancy leader "The Sanctuary," is superbly equipped with 19 treatment rooms, a lavish changing facility and extensive relaxation room.



Your Luxury Spa Break
The Spa's holistic approach treats the mind, body and spirit in an atmosphere that stimulates the senses. A large relaxation lounge, with doors opening onto a balcony overlooking the swimming pool, provides the perfect place to unwind both before and after treatments. For those wishing to enjoy the spa experience with a friend or loved one, the Vale offers 'doubles' suites so you can enjoy the experience together.
Vale Spa provides our guests with the ultimate sanctuary. Here, the stresses of everyday life simply float away. For those who want to combine a little adventure with their spa break Wales has plenty to offer - from the glorious countryside on your doorstep to the award winning Heritage Coast and the bright lights of Cardiff.
The Vale Spa experience
On your visit the Vale Spa staff will ensure you know what to do and when to do it. The Vale Spa service is to help you completely relax and not have to worry about a thing. Here are some helpful hints to help you make the most of the Vale Spa.
The Complete Experience
Whilst Vale Spa offer individual treatments, why not consider the complete experience and book one of our day packages, where you can design a package of treatments that best suits you. Take time to enjoy the Vale pool, steam rooms, sauna and whirlpool bath as well as a healthy lunch and plenty of relaxation time the Vale lounge.
Spa treatments and therapies
At the Vale Spa we have a wide selection of luxurious spa treatments and therapies from aromatherpy and massage to complete holistic spa experiences. Unwind and calm down in Wales' leading spa resort.
Facial experience
Vale Spa Feel Good, Vale Spa Indulgence, Elemis Skin Specific, Clairins Pro-Active, Elemis Advanced Performance, Elemis Advanced Anti-Ageing.
Massage & body experience
Back & Shoulder Massage, Elemis Deep Tissue Muscle Back Massage, Elemis Exotic Lime & Ginger Salt Glow, Aromatherapy Full Body Massage, Full Body Swedish, Gerard's Shea Bliss Body Therapy, Clarins Personal Blend Aromatic Body Treatment, Elemis Deep Tissue Muscle Massage, Clarins Blissful Beginnings, Guam Celluite Treatment, Gerard's Chocolate Body Treatment, Clarins Pro-Active Body Treatment.
Exclusive holistic spa experience
Gerard's Shirodara, Gerard's Pendasweda-Aromatic Massage, Gerard's Tibet, Gerard's Oloil, Gerard's Chakra Stone Massage, Indian Head Massage, Relfexology.
Wraps, floats & bathing ceremonies
Elemis Exotic Milk Hydrotherapy Jet Bath, Clarins Hydrotherapy Jet Bath, A Dry Float Experience, Shea Bliss Body Therapy, Elemis Exotic Coconut Rub & Milk Ritual, Elemis Exotic Frangipani Body Nourish, Elemis Aroma Spa Wraps.
Essentials
Vale Spa Manicure, Vale Spa French Manicure, Vale Spa Pedicure, Clarins Express Make-up, Clarins Get Going Tanning Treatment, Waxing, Tinting, Electrolysis, Sunbeds.
Contact:
Vale Resort
Hensol Park
Hensol
Cardiff
CF72 8JY

Tel: 01443 667800
Latest health and fitness news


All news stories
Latest quizzes and tests


All quizzes & tests