Italian Chicken Cacciatore with Tagliatelle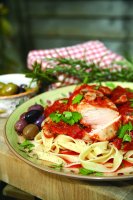 This rustic dish translates as 'hunter's chicken' and typically involves cooking chicken with tomatoes, mushrooms and herbs. This version is quick to prepare and is ideal for making use of leftover vegetables, as the ingredients can be varied each time.
Ingredients (serves 2)
2 teaspoons olive oil
2 chicken breasts
1 small red onion, chopped
1 clove garlic, crushed
100g/4oz mushrooms, sliced
1/2 tablespoon chopped fresh rosemary,
or 1 teaspoon dried rosemary
1 tablespoon chopped flat leaf parsley
200g/8oz can chopped tomatoes
1 tablespoon tomato purée
1/2 tablespoon red wine vinegar
100g/4oz tagliatelle, preferably wholemeal
Freshly ground black pepper
Method
1) Heat the oil in a large pan over a medium-high heat. Brown the chicken lightly for about 4 minutes on each side. Transfer the chicken to a clean plate and set aside.
2) In the same pan, sauté the onion until translucent. Add the garlic and cook for a further minute. Then add the mushrooms and cook, stirring frequently, until they release their liquid and soften (about 5-6 minutes).
3) Mix in the rosemary and half the parsley, followed by the tomatoes, tomato purée and vinegar. Scrape the bottom of the pan to incorporate any browned bits into the sauce.
4) Return the chicken to the pan. When the sauce starts to bubble, reduce the heat, partially cover and simmer for 15 minutes.
5) Meanwhile, cook the pasta in a large saucepan of boiling water until al dente (about 10 minutes if using dried pasta).
6) Turn the chicken over and cook until it is no longer pink in middle and the juices run clear. Season with black pepper.
7) Drain the pasta, divide between two plates and top with the chicken and cacciatore sauce. Garnish with the remaining parsley and serve.
Calories per serving: 491
Fat per serving: 8.26g
Top Tips
Experiment with different herbs to add variety. Thyme, bay leaves and sage all work well with the other flavours in this dish.
The dish can also be served with other types of pasta, brown rice or simply with crusty wholemeal bread and a fresh salad.
Try adding a handful of stoned olives at the end of the cooking time for extra Italian flavour.
Courtesy of the World Cancer Research Fund
Latest health and fitness news


All news stories
Latest quizzes and tests


All quizzes & tests