Leek and Potato Spanish Omelette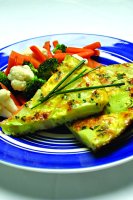 This recipe will bring a touch of sunshine to your table with the colourful mix of green and yellow. Leeks are a great vegetable as they are quick to prepare and provide lots of flavour, as well as the nutrients beta-carotene and folate. Eggs are a cheap and nutritious base for many meals. What's more, they are perfectly packaged for cooking for one, which makes them very versatile. Eggs are a source of protein and Vitamin D, which is important for bone health.
Ingredients (Serves one)
100g (4oz) potatoes, peeled and cubed
1 small leek, trimmed, washed and chopped
2 eggs
2 tablespoons semi-skimmed milk
1 teaspoon chopped chives
1 tablespoon olive oil
freshly milled black pepper
Method
1) Boil the potato cubes in a pan of water for 5 minutes, then add the leek and cook for a further 3 minutes, until just tender. Drain well.
2) Beat together the eggs, milk and chives.
3) Heat the oil in a 20cm (8 inch) non-stick frying-pan and arrange the leek and potato over the base. Pour the egg mixture over the top and cook over a medium heat until the edges of the egg mixture start to set.
4) Pre-heat the grill to a medium heat. Place the pan under the grill to set and finish cooking the top of the omelette.
5) Remove from under the grill and leave to stand for a minute before carefully turning out on to a warmed
serving plate and cutting into wedges to serve.
N.B. If possible use a pan with a metal handle, but remember this will get hot under the grill! If you don't have a metal handled pan, wrap the pan handle with several layers of tin foil. Don't forget to use an oven glove!
Calories per omelette: 300
Fat per omelette: 15 g
Top tip
This recipe is great for using up leftover cooked potato - just chop into cubes and add straight into the frying pan. Similarly, it is also a great way of using vegetables you may have left over from earlier meals.
Courtesy of the World Cancer Research Fund
Latest health and fitness news


All news stories
Latest quizzes and tests


All quizzes & tests