Pocket PT: Personal trainer in your pocket

Why spend £400 a month on a personal trainer when you can have Pocket PT? Well the answer is, you shouldn't.
The most advanced personal training system on the market
Never before has Reps level 3 personal training been combined with such progressive and competent knowledge of the body and nutrition with all information downloadable to any PVD - Pocket Video Device. (Mobile Phone/ipod etc).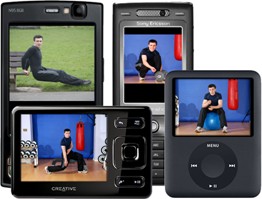 Video consultations demonstrate every routine, leaving you in no doubt how to carry out the exercises correctly and safely.
Face to face personal training
As we all learn differently, every discipline is explained in detail in text as well as verbally. Pocket PT competes with 'face to face'personal training at a fraction of the price. Always available, offers you constant motivation and will not let you down or charge you for missed sessions.
Pocket PT is unique to each user and be personalized in a variety of ways to reinforce your goals and enhance your experience.
Pocket PT targets the individual's needs and delivers premium instruction, extensive nutritional advice and personalised motivational techniques.
Catalogue of exercises
Pocket PT has a vast catalogue of comprehensive exercises and programmes to suit every age and ability.

Choose from three different locations, which reflect your situation and access to equipment.

These videos can be downloaded on your MP3 device (iPod, mobile, Blackberry etc) making Pocket PT the must have personal training device for all exercisers.
How Pocket PT works

Pocket PT takes away the gamble of finding a good, highly qualified personal trainer.

Pocket PT delivers the highest standard of personal training in the UK in a friendly and informative manner all of which you can also download to your Pocket Video Device - (Mobile Phone / iPod etc) and take with you to refer to wherever you workout.

Use Pocket PT to devise programmes to work out to whilst away on business or on holiday.

Pocket PT is on hand 24 hours a day to deliver unrivalled health, fitness and nutritional information.
From beginners to advanced

Everyone can enjoy Pocket PT as it is easy to navigate with each page concisely delivering the necessary information for all levels of fitness.

Beginners can benefit from Pocket PT's simple format, whilst more advanced users can utilise the more in-depth analysis available throughout the site. To indulge in more intricate detail on every exercise and each body part simply click on the highlighted key word to reveal the more in depth information and advanced articles.