Who are the Fitness Industry Association (FIA)?

The Fitness Industry Association, FIA was established in 1991. The FIA is a not-for-profit organisation, which represents the interests of all private and public organisations involved in the fitness industry. Almost 2,500 private and public multi and single site organisations. Such organisations include UK health clubs, health club chains, privately owned UK gyms and fitness professionals including UK personal trainers.
NOTE: FitnessVenues.com is the ONLY online health club directory that allows consumers to view instantly which health clubs and gyms in their local area are FIA members (see below).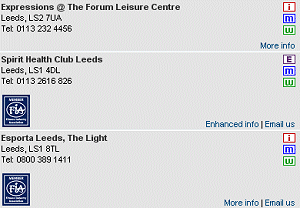 The FIA Mission
The FIA's mission is to continually raise standards, promote and represent the health and fitness industry in the pursuit of a more physically active and healthier nation.
The National Health Agenda
The FIA works closely with the Government, specifically with the Departments of Health and Culture Media and Sport and Trade and Industry, to increase activity levels in consumers who do not participate in any regular activity. This group represents 60% of the population.
The FIA and the Register of Exercise Professionals (REPs)
The Register of Exercise Professionals (REPs) a register of qualified exercise teaching staff, established in 2000. It currently has over 30,000 registered exercise professionals.
Skills Active: the Sector Skills Council for all professionals involved in Active Leisure and Learning. Forum of Exercise Equipment Suppliers (FEES).
A forum for equipment suppliers for the discussion of common interests such as European regulation, health and safety (sits under the umbrella of the FIA).
Contact the Fitness Industry Association
Fourth Floor
61 Southwark Street
London
SE1 0HL
T: FIA Members: 020 7202 4702
T: FIA Non Members: 020 7202 4719
E: info@fia.org.uk
W: www.fia.org.uk
Latest health and fitness news


All news stories
Latest quizzes and tests


All quizzes & tests