Weight Watchers: Dieting and weight loss

At Weight Watchers we believe that healthy, long-term weight loss is within everyone's reach and you can reach your weight loss goals:
Choose a programme that is healthy, well-balanced and interesting, gives you plenty to eat, and fits in with your lifestyle. And it can include all your favourite foods.
Gradually increase the amount of exercise you enjoy and which fits in with your way of life.
Think about what you might need to change in your long-term behaviour by using some practical recommended strategies.
Get lots of support, encouragement and motivation all along the way.

Reach your goals with Weight Watchers
Weight Watchers is recognised as a safe, healthy and proven way to take control and reach your weight loss goals and now has an online plan.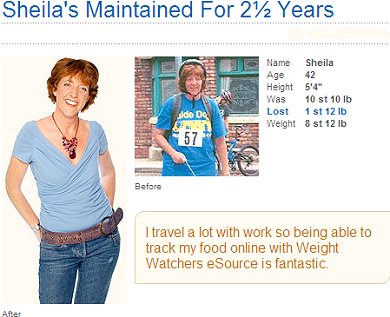 Weight Watchers online features
Access to online tools, inspirational topics, weekly emails and guides to help you reach your goals.
You'll learn to make wise food choices and discover hundreds of delicious recipes and meal ideas.
As a Weight Watchers Online subscriber you will have access to a comprehensive suite of interactive tools. These enable you to manage all aspects of your weight loss journey including the two highlighted below.

When you're following the POINTS® Plan, the interactive POINTS Tracker lets you instantly search POINTS values for nearly 30,000 foods.
When you're following the Core Plan, browse the Core Food List, which makes it simple to stick to healthy food options.

Weight Watchers Switch programme
Switch recognises that everyone is different, so what works for one person may not work for another.
Discover the small changes you can make to help you take control and lose weight by learning healthy habits.
Choose one of our two flexible, healthy food plans - The Core Plan and The Points Plan
The Core Plan - No fuss
Eat freely from a comprehensive list of foods including fruits and vegetables, lean meats and poultry, grains, eggs and dairy products.
Eat three meals a day until you feel comfortably full.
Snack on fruit and vegetables or have the occasional treat in controlled amounts
Complete flexibility with your POINTS® allowance.
All foods are given a POINTS value based on a unique formula.
Discover your own personal daily POINTS allowance.
Eat any food, just stay within your daily POINTS allowance.

Latest health and fitness news


All news stories
Latest quizzes and tests


All quizzes & tests