The Biggest Loser Club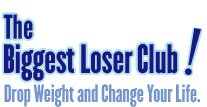 Effective weight loss requires more than just a few weeks of dieting. Successful weight loss requires a deep commitment, one that views weight loss as a lifelong process. Those who consider a diet a short-term thing that they must suffer through may only be setting themselves up for long-term failure. As soon as the diet is over, these individuals often return to their old eating habits, and the weight comes back.

Biggest Loser Club member features
With the Biggest Loser Club you get unlimited access to all of the online program's features, including:
Diet & fitness program used on the TV show, but personalized to your goals
Online interaction with Bob, Kim and the Contestants
Daily meal plans, based on your lifestyle and preferences
Recipes and shopping lists
Animated fitness demos
Weight tracker
Online journal
Active message boards
Weekly newsletter and inside tips
Much much more!

Online weight loss and dieting
The Biggest Loser Club is an online weight loss diet site designed specifically for those who need to develop a new outlook for long-term weight loss success. The club introduces participants to a new fitness regimen and dietary plan. The club also encourages participation in an online community that includes successful contestants from NBC's hit reality show, The Biggest Loser, as well as thousands of people around the country who are dealing with the same weight loss issues.
Lose Weight with The Biggest Loser
Use the diet and fitness program being followed on the show and interact with The Biggest Loser experts and Contestants.
Daily Meal Plans & Recipes
Personalized plans featuring foods and recipes that helped the contestants lose weight and eat healthier. Plus get shopping lists and recipes.

Customized Fitness Program
Burn calories with our circuit program you can do at home or at the gym. Our demonstrations show you how to exercise safely and effectively.

Connect With Bob Harper and Cast Members
Use the message boards to learn their tips and secrets, find answers to your questions, and get motivated.
Personal Progress Journal
Share your experiences and success with other Club members, Contestants, and Trainers.

Newsletter, Tips, and More
Get inspiration, motivation, and the information you need to succeed on e-mail and online. Club members will also exclusive benefits like access to a limited number of tickets to The Biggest Loser Season 3 finale, and more.

Latest health and fitness news


All news stories
Latest quizzes and tests


All quizzes & tests