Nutracheck online food diary for effective weight loss

Eat smarter, not less to lose weight
If you are trying to lose weight but find diet plans too restrictive and time-consuming, then Nutracheck could be for you.
Nutracheck is an online weight loss service that requires you to keep a personal food diary. You eat what you like but just stay within the personal targets you've been set. The reason this system works so effectively is because it's all about thinking differently. As no foods are banned, it doesn't feel like you're 'on a diet' - and that's half the battle won!
Start a 5-day free trial today!
Lose 10 lbs in 5 weeks
Get started by visiting www.nutracheck.co.uk for a free assessment. You'll be set personal daily calorie, fat and exercise targets. Then start entering everything you eat and drink into your private food diary and the system automatically tracks how you're doing against your daily and weekly targets.
Plus you can start to improve the quality of your diet too with helpful tools such as a 5-a-day fruit and veg tracker, Water Meter and Alcohol Monitor.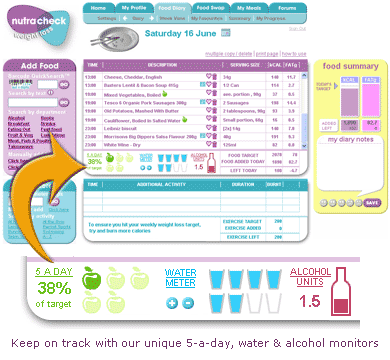 Why it works
Nutracheck focuses you on what you're eating and how much. If you think you can just rely on memory you'd be wrong. People tend to underestimate what they've eaten in a day by around a third - enough to stop weight loss! The key to success is honesty - declare all and you can expect to lose weight!
Nutracheck gives you the tools to take control of your diet, see where you've gone wrong in the past and start to lose weight - for good.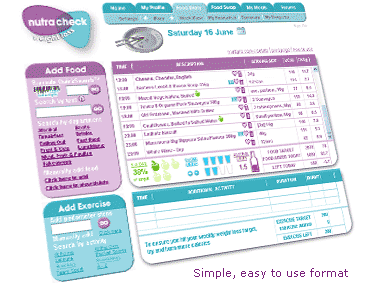 Nutracheck features…
No banned foods or inflexible diet plan
Online interactive food diary with database of 30,000 foods
5-a-day Fruit & Veg tracker, Water Meter & Alcohol Monitor to encourage dietary improvement
Assessment to set personal daily targets for cals, fat & exercise
Online exercise diary to record calories burned
Members forums for 24/7 support & encouragement
Expert advice from Nutracheck's Nutritionist & Fitness Consultant
Recipe Calorie Counter & forum to swap recipes with other members
Food Swap to help you find low cal options to favourite foods
Unique optional extra! Download a calorie checker and food diary program onto your mobile to keep track on the go!
4 great reasons to join
From £1.54 per week - it offers excellent value
1, 2 or 3 month membership options - no automatic repeat subscription
No spam emails - we don't bombard you with unwanted messages
You can try before you buy with a 5-day free trial
Start a 5-day free trial today!
Latest health and fitness news


All news stories
Latest quizzes and tests


All quizzes & tests