eDiets diet fitness and weight loss plans

eDiets.com offers 24 personalized online programs including eDiets.com® Weight Loss Plan, the Atkins Nutritional Approach™, the Glycemic Impact Diet™, New Mediterranean Diet, The Mayo Clinic Plan, the Blood Type Diet®, the Perricone Nutritional Face-Lift™, Bob Greene's Total Body Makeover, Bill Phillips' Eating For Life™, The Slim·Fast® Optima™ Diet, Trim Kids™, the eDiets.com® Alternative to Jenny Craig, and 10 proprietary Healthy Living programs for those with special needs, including the Living With Diabetes Plan and the Heart Smart Plan.

2 million eDiets members can't be wrong
Since 1997 and as of June 30, 2006, over 2 million consumers worldwide have become eDiets.com members and have used the following eDiets site features.
Members choose a plan and complete a personal profile questionnaire to determine how to best custom tailor the program for their unique needs. To ensure success, members have 24/7/365 access to eDiets.com's Community through which they can garner real-time motivation and support from eDiets.com's on-staff experts and member peers.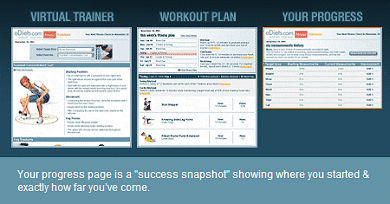 eDiets features
eDiets is one of the leading dieting and weight loss web sites. eDiets allows its members to access the following features:
24 Specialized Program Options
Customized Meal Plans
Personalized Fitness - Bulletin Board Support Groups
Comprehensive Information Resources
Interactive Tools - Emotional Support Center
24-Hour Support - Online Meetings
Live Online Help Desk
Mentor & Partner Programs
Online Shopping
Relevant Electronic Newsletters
Fast-Food Option
Grocery Shopping Lists
Recipes

Latest health and fitness news


All news stories
Latest quizzes and tests


All quizzes & tests