Nutracheck online food diary system for men

Reduce your waist & lose weight
Nutracheck for Men is an online service to help you lose inches, feel healthier and improve your diet. It does not involve following a restrictive meal plans - instead it uses a simple food diary approach where you eat what you like, but stick within set targets. Sign up online for your personal assessment, then start keeping a private food diary. Log in and update it as often as you like throughout the day or download a food diary program onto your mobile phone, enter what you eat into your mobile, then synchronise 'over the air' to update your online account.
Start 5-day free trial today!

How does your waistline measure up?
A waist measurement of over 90cm or 35" is classed as 'overweight' (that is equivalent to a BMI of 25). A waist measurement of over 102cm or 40" is considered 'obese' (or a BMI of 30+). Reducing your waist will significantly help to improve your heart health.
Get started today by visiting www.nutracheckmen.co.uk for a free assessment.
Is booze is causing your weight problem?
It's easy to overlook liquid calories, but it's often the one area where cutting back can have the biggest effect. So your food diary also contains an alcohol monitor. This automatically tracks units and calories consumed, so you can see exactly how much of your weekly calorie intake is coming from alcohol and take action to reduce it if necessary.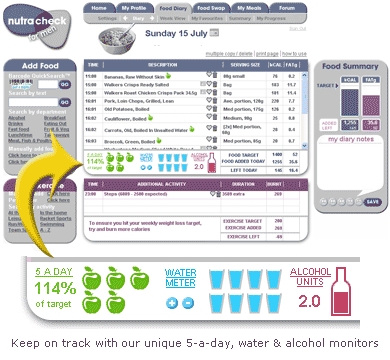 Plus a 5-a-day fruit and vegetable tracker aims to help you to improve the quality of your diet by automatically counting how you're doing against the daily target.
Why this system works
Your food diary focuses you on what you're eating and how much. For many men, the problem can be simply too large a portion size! Also eating without thinking. A classic example is the petrol station purchase - fill up with fuel and buy a snack out of habit - hungry or not. Nutracheck for Men can help you identify what is causing your weight problem, so you can see how you need to change your eating and lifestyle habits to lose weight.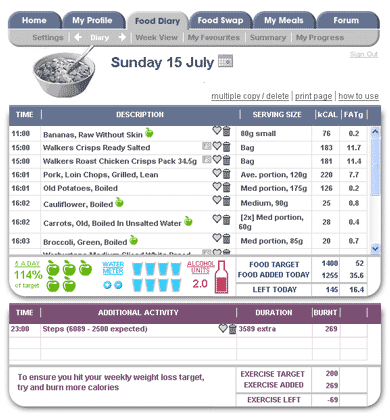 Nutracheck for Men features…
Choose what you eat - no diet plan or special meals
Online interactive food diary with food database of 30,000 products
5-a-day Fruit & Veg tracker & Alcohol Monitor to encourage dietary improvement
Assessment to set personal targets for food & exercise
Online exercise diary
Members forums for 24/7 support & encouragement
Expert advice from Nutracheck's Nutritionist & Fitness Expert
Food Swap to find low healthier options
Optional Mobile phone download - a synchronising food diary program to keep track on the go
4 great reasons to join
Membership costs as little as £1.54 per week
Offers the convenience & privacy of an online service, with optional mobile phone program
Choice of 1, 2 or 3 month membership options
Try before you buy with a 5-day free trial
Start 5-day free trial today!

Latest health and fitness news


All news stories
Latest quizzes and tests


All quizzes & tests