The Skinny Bitch Diet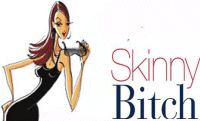 The Skinny Bitch Diet is taken directly from the book Skinny Bitch written by former LA models Rory Freedman and Kim Barnoiun, took off as soon as Posh Spice Victoria Beckham was seen bying the book in LA in May 2007.
Since then the book, and the Skinny Bitch Diet, has taken off in a big way.
How does the Skinny Bitch Diet work?
The Skinny Bitch Diet is billed as a guide for "girls who want to stop eating cr** and start looking fabulous" - a quote taken directly from Skinny Bitch, the book.
The book is interesting in the fact that there are no portion sizes, no calorie counts, and no waft of cabbage soup or high fat meals.
In a nutshell the Skinny Bitch Diet is based on the vegan diet philosophy of eating whole grains, breads, pasta and rice, fruits and vegetables and abadoning all dairy products, fish and any meats.
Also out is sugar, refined flour and any food that is artificial.
The antithesis of the Atkins Diet
The Skinny Bitch Diet completely flies in the face of high protein / low carb diets such as the Atkins Diet. Where the Atkins Diet suggests people looking to lose weight should eat meat, fish, cheese etc the founders of the Skinny Bitch Diet have, a somewhat, different opinion.
The Skinny Bitch suggests "you are a total moron if you think the Atkins Diet will make you thin", "soda is liquid Satan", and "coffee is for pussies".
The Top Five Skinny Bitch Diet rules
Follow these guidelines and become a self-confessed Skinny Bitch.
Ban all sugar and artificial sweeteners. Splenda and Nutrasweet, the Skinny Bitch authors claim, stimulate your sweet tooth, while the real thing makes your fat cells grow rampantly. If you need to eat something sweet then stick to natural sweet foods like fruit.
Eat whole grain foods like brown rice, wholemeal pasta, multi-gran breads but non of their white coloured sisters like white bread, french bread and white rice.
Cut out all meats, fish and eggs and dairy products - milk, cheese etc.
Substitute soy products for all dairy products. Soy is a good source of protein and products like soya milk will add variety to your Skinny Bitch Diet.
Eat nuts, another good source of protein, as well as soy, vegetables and fruits. Eat foods make from tofu as a Skinny Bitch Diet treat.
NOTE: Rory Freedman and Kim Barnoiun, the authors of Skinny Bitch, suggest cutting out one food type at a time on the Skinny Bitch Diet. So, try to cut out meat first, the dairy, then fish etc until you are eating a purely vegan style diet.
Advantages of the Skinny Bitch Diet
Eating a wide selection of carbohydrates will give you more energy than you'll find on such low calorie deits as the Cabbage Soup Diet, The Hollywood Diet and the Lighter Life Diet. This means you'll be more likely to enjoy the extra energy and it may even spur you on to complete your new Skinny Bitch Diet with an exercise plan - something which will push your weight loss into overdrive.
The vegan-style diet will also suit many people who, for what ever reason, don't eat meat. The book may give non meat eaters a guide of new foods that they may never have otherwise eaten.
The Skinny Bitch book, which the Skinny Bitch Diet is obviously taken, is a book that pulls no punches. Unlike other dieting and weight loss books, gone is the science geek speak and the need to count endless calories and in is the sharp tones of people who have strong opinions about which foods do use harm and which we should eat.
Disadvantages of the Skinny Bitch Diet
A diet based on solely eating a mix of fruit, vegetables and grains will be, for some, very hard to stomach.
A meat eater, like myself, would never completely cut out lean healthy meats and fish to follow a basic diet plan that is asking you to make long term life changes to how you eat. Perhaps for a week or so, but never a philosophy of life for years to come. I doubt I'm the only one to think like this.
Cutting out meats can mean missing out on good sources of iron and sources of complete amino acids (protein). Meat, fish, milk and eggs are all fantastic sources of protein, the building blocks of muscle and lean tissue in the body. Cutting these foods out on the Skinny Bitch Diet will force dieters to create proetin rich meals using a mix of incomplete protein sources, found in breads, rice, some fruits, vegetables, nuts and soy. This may mean that the Skinny Bitch diet may need to research which foods and their amino acids will complement each other at meal times to create a complete protein rich plate.
The Skinny Bitch Diet - Conclusion
Vegan diets, which is essentially what the SKinny Bitch Diet is, have been around for an awful long time. Suggesting that these diets are not healthy would be a mistake. However, care must be taken to make sure both enough protein is eaten to produce lean muscle tissue and repair the grind of daily life on the body and that enough calories are eaten to allow for healthy and steady weight loss.
Posh Spice, Victoria Beckham has a tiny waist and it has been suggested has suffered from eating disorders like anorexia, so holding her up a as shinning example of what the Skinny Bitch Diet can do on one's figure isn't perhaps a good idea.
Latest health and fitness news


All news stories
Latest quizzes and tests


All quizzes & tests